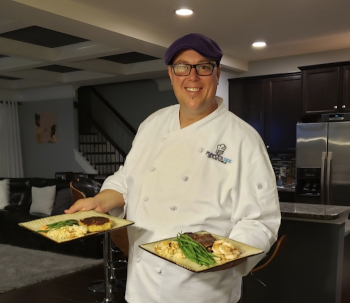 Here at Purple's Side of the Table, we understand that you lead a busy life. Between obligations at work and home, it can be difficult to find the time or energy to tend to things like cooking or meal planning. If you are looking for a way to make this part of your routine easier, one option is to hire a personal chef–not only is it more affordable to do so than you might think, having a personal chef provides a number of key benefits that you are sure to appreciate. In this article, we'll go over three reasons why we encourage you to give our services a try.
Save Time and Money- One reason to hire a personal chef is to help save time–planning and preparing tasty, healthy meals takes a significant time commitment, and by delegating this task to our trained professionals, you'll be able to spend that time on other things. In addition, our team can actually help you save money on your meals, as you won't be paying restaurant prices or having ingredients spoil before you get around to using them.
Enjoy a Customized Menu- Another reason to hire a personal chef is that by doing so, you will be able to create a highly customized menu that is perfectly tailored to your family's unique tastes. The high level of personalization also makes hiring a personal chef a great option for those who have food allergies or specific dietary needs, as our team will be able to work within those parameters to deliver nutritious and tasty meals every time.
Get More Balanced Nutrition- Even if you don't have any particular food restrictions, you may still want to hire a personal chef if you want to enjoy more nutritionally balanced meals. We know how to design menus that meet all of your nutritional needs while also tasting great and leaving this in our capable hands will ensure that you get proper nutrition as a matter of course.