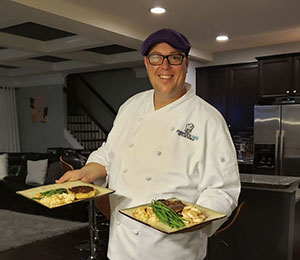 If you struggle with cooking at home on a regular basis, then you've probably wished you could hire an in-home chef on at least one occasion. In our experience here at Purple's Side of the Table, many people have this thought, but few follow through on it, believing that an in-home chef is a luxury they don't need. While we can't make that decision for you, we do encourage you to give the issue some serious consideration. In this article, we'll provide a few questions to ask yourself that will help you decide if an in-home chef is right for you.
How busy is your schedule? One of the most popular reasons to hire in-home chefs is a desire to save time. In today's fast-paced world, many people find it difficult to make the time to plan meals, buy ingredients, and cook. If your schedule is already stuffed to the limit, an in-home chef can eliminate at least one source of stress. At Purple's Side of the Table, we handle every step of meal prep for you so you can focus on other activities, secure in the knowledge that your family will be well-fed.
What are your dietary needs? Meal planning is already a difficult task for many people, and that difficulty level only increases if you're dealing with any kind of dietary restrictions. In addition, both cooking and cleaning can become much more complicated and time consuming if you have to worry about gluten cross-contamination or similar issues. If trying to keep up with your family's dietary needs is on the verge of becoming a full-time job, hiring an in-home chef is a good way to lift that burden and give you the peace of mind you deserve.
How nutritious is your current diet? Lastly, we at Purple's Side of the Table encourage you to think about your current eating habits when considering whether to hire an in-home chef. While just about everyone tries their best to stick to a healthy diet, many people struggle to do so consistently. A lack of time to cook is a big factor, but so is an overabundance of other concerns that leave you with little remaining energy for making decisions about what to eat. An in-home chef like Chef Purple will make eating a healthy, nutritious diet easy, which we consider to be a worthwhile investment.