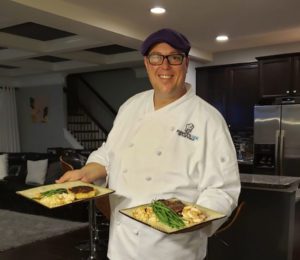 Making the decision to hire a personal chef, whether for weekly meal prep services or for an occasional event or gathering, gets you one step closer to having the free time you deserve to do the things you love. For that to be a true benefit, you have to choose a chef that you feel confident about. Think about it like choosing a fine restaurant for an anniversary dinner or where you'll ask that someone special if they will marry you. You want to get it right! Right? So, here are a few questions you should ask when you are about to hire a personal chef, so you not only choose the right one but have the correct expectations in place.
Will you be cooking the meals at my home or bringing them with you? An in-home cooking experience is usually believed to be the most advantageous because the foods are cooked fresh, and there isn't the chance for contamination during transportation. Plus, you can usually watch and gain some pointers for when you do your own cooking. On that note, if you can find one that encourages not only you but your guests to participate, you'll all have a great time.
How do you choose your ingredients? A quality personal chef is going to take great care selecting the freshest ingredients possible and may put added effort in obtaining local ingredients whenever possible.
Can you customize a dish to appease a special diet? Do not hire a personal chef that won't budge on their meal offerings and won't accommodate you and your guests. Ideally, the personal chef you hire will be experienced with all the types of dietary restrictions and have no problem creating a delicious menu that everyone loves.
How much experience do you have and where did you obtain it? It is really important to address those two questions together when you hire a personal chef. Consider that one could say they have 40 years of experience in food preparation, but 38 years of it could have been flipping burgers. Someone else that has worked at some of the nation's finest restaurants is going to provide you far better service and quality.
How flexible are you with menus and party ideas? Again, some personal chefs are very regimented and won't go out of their comfort zone. This can be a case of inexperience or complete hubris. Hire a personal chef that is as comfortable with a beer pairing party or backyard BBQ as they are a three-course plated dinner.
We believe that when you call us at Purple's Side of the Table and see all that Chef Ross Purple has to offer, you will get satisfactory answers to all these questions and any others that you would like to ask. We are happy to meet with you to discuss what you expect when you hire a personal chef and let you know if that is something we can achieve. Call today to learn more.