Chef Ross Purple is a true Personal Chef. Call him directly today to learn how his weekly Meal Prep Services will change your life!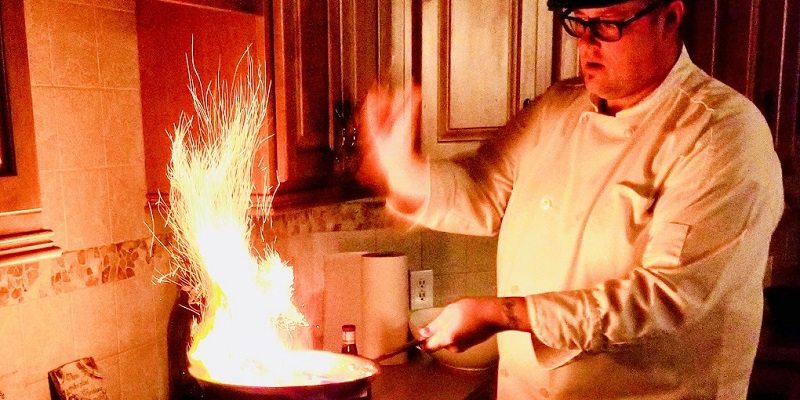 Awarded "Best Private Chef" by the Charlotte Observer Readers' Choice, we provide a wide range of exceptional private chef services. Headed by Chef Ross Purple, we have quickly become one of the area's leading meal prep and personal chef companies.
Initially I would meet with you personally for a complimentary consultation to learn more about your goals & to see your kitchen. Then, together we will discuss a custom meal plan. I take extreme pride in accommodating Allergies and Dietary Restrictions. Most recipes are easily modified. We'll create your personalized weekly menus, listing your entrees and side dishes. A final menu will always be sent to you for approval by email on each Friday prior to your visit.
Grocery Shopping
One of the best things about working with Chef Purple is he'll do all the grocery shopping! Imagine how much time you'll save each week not having to aimlessly roam through the grocery store. Not only that, your grocery costs will decrease because you won't be wasting money on items that will sit in your pantry or refrigerator for months with no idea what to do with it all.
Your Weekly Visit
After the groceries have been purchased, I head straight to your home to work my magic! I take care of everything from start to finish. Cooking, cleaning and organizing the meals prepared. I also help keep your pantry organized and stocked with all the staples. Even though I'm cooking in your kitchen, I will provide all of my own equipment (i.e., pots and pans.) You will come home to fresh, chef-prepared meals awaiting you in your refrigerator. Your meals will be packaged and labeled per the specifications discussed during the assessment, and stored accordingly in the refrigerator ready for you to heat and enjoy in the comfort of your own home.
Billing
My pricing is simple. I have my clients pay for the cost of the groceries with no up-charge. Then I have a weekly Chef Fee starting at $375 depending on number of people and the scope of the work. The services include everything outlined here and so much more. Call today for a personal consultation with Chef Purple!
WHY Chef Purple loves what he does…
Chef Ross loves planning a good theme and having a special reason to celebrate! He makes it a pleasure to help you plan a milestone birthday, wedding anniversary or bachelorette party.
WHO Chef Ross creates unique and memorable experiences for…
It"s all about you, your guest of honor, your family and friends! During the initial complimentary consultation Chef will take time to learn more about your guests. Chef Purple carefully listens to your questions and your input to be certain no little detail gets overlooked.
WHAT Chef Purple does…
He will plan the menu with you, inquire about your ideas and special requests. Equally if not more importantly discuss any allergies and dietary restrictions that need to be taken into consideration.
Once the final details are all in place Chef Purple will prepare a detailed estimate with an itemized breakdown of the estimated food cost and the time dedicated to your event. He'll have you pay for the cost of the groceries with no up-charge. Chef Purple selects only the finest, freshest ingredients available. He takes care of everything revolving around the food from start to finish. Menu planning, grocery shopping, all the preparation & cooking. He'll bring his own cookware, utensils etc… The BEST part of all…He'll take of all the cleanup at the end of the night! His goal is to leave you wondering if he was actually there. You can simply sit back, relax and spend time entertaining your guests without a care in the world.
If you need a personal chef to do all the hard work for you, Chef Ross Purple is here to help. Streamline the cooking process in your home and let Chef Purple get to know you better, so he can create dishes that "wow" you every time you sit down to eat. Plus, if you want to know how to do what Chef Purple does in the kitchen, he'd be more than happy to show you during an interactive cooking lesson right in the comfort of your own kitchen . . . after all, it's where you'll actually be cooking once you fine-tune your skills. 
For more information about our services and to schedule your complimentary personal consultation in Charlotte, North Carolina, reach out to us at Purple's Side of the Table today.
---